Illusion's pilot berths have been replaced with shelves, and the faces that holds the drawers adjacent to the settees have been moved outboard about 8 inches.  The settees are fixed and do not slide.
Given that we didn't need the space for the settees to slide under the drawers, we removed the drawers and used the old drawer faces as hinged cabinet doors.  There is now a longitudinal bulkhead that extends from the drawer faces down to the hull, and between each cabinet there is a small athwartship bulkhead that separates the cabinets and is also glassed to the hull.  This has made the middle of the boat very rigid.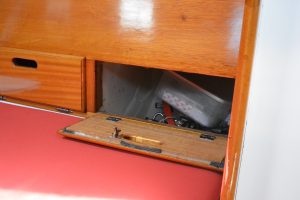 Under the gunnel outboard of the quarterberths we installed storage lockers.  Those panels also have stiffened the boat.  the forward most locker is a vented propane locker that has a removable, gasketed panel (varnished) that is used to remove the tanks to fill them.  We carry two 20 lb, aluminum, horizontal, propane tanks, one on each side.  The tank compartments are vented to the thruhull that is above the water line just below the propane locker that is also used to drain the cockpit seats.  We have an "air release valve" in the hose from the propane locker to the scupper to keep seawater out of the propane locker when the boat is heeled far over on a windy reach.  https://plastomatic.com/arv.html   We have a removable propane Cozy cabin heater which explains why we can carry two tanks,
Strictly speaking, this propane installation does not meet ABYC because propane lockers are not supposed to open into the interior of a boat.  Whenever Illusion has been surveyed, however, every surveyor has noted that the installation is not precisely compliant with ABYC, but it is safe, the lockers are airtight and vented outboard, and that they would have done exactly the same thing if they owned the boat.  We've never had an insurance company complain given that the survey says it is a safe and sensible solution.